Optometrist, Casper Wyoming
Are you looking for an eye doctor in Casper Wyoming?
Are you having trouble with blurry vision? Maybe you're looking to upgrade to a new look in stylish eyeglasses or want to try contact lenses (or just want to make sure your contacts are the latest in health and comfort.) Perhaps you're suffering from an eye injury, infection, or have been told you have an eye disease like glaucoma or macular degeneration. Or maybe your eyes are just scratchy or irritated.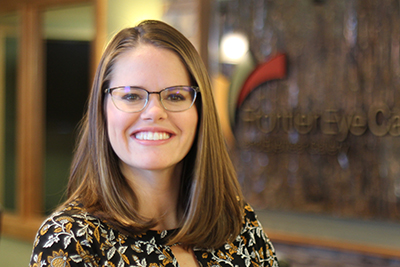 Whatever your eye care needs, we are here to help. At Frontier Eye Care in Casper, optometrist Dr. Ashley Alden is your expert.  She'll take the time to listen to your concerns and make sure you understand what your eye problem is. Our optometrist will also perform a thorough and comprehensive eye health check. She's certified in the treatment of eye disease and injury. She uses only the latest in eye care and refractive technology to ensure that you not only have the best vision possible but also that you see your best for year and years to come. (We want to make you a patient for life!)
Frontier Eye Care's optometrist, Dr. Alden graduated from Southern California College of Optometry with honors and is certified by the National Board of Examiners in Optometry. Furthermore, she is a self-described "optometry nerd" and consistently furthers her optometric knowledge with optometry journals, seminars, and online classes (in addition to meeting the stringent Wyoming state requirements for continuing optometric education). At Frontier Eye Care, one of our core values is making sure you benefit from the latest eye care research and optometry science.
So if you're looking for exceptional eye care in Casper, Wyoming, you've definitely come to the right place! To make an appointment for yourself and your family, call Frontier Eye Care at (307) 472-2020.
So what exactly is an optometrist anyway?
According to the American Optometric Association, "Doctors of optometry are the nation's largest eye care profession, serving patients in nearly 6,500 communities across the country.
Optometrists are trained to examine, diagnose, treat, and manage disorders that affect the eye or vision.
After attending a university or college for their undergraduate education, optometry students concentrate specifically on the structure, function, and disorders of the eye for 4 additional years during their graduate education to earn their doctoral degree.
While concentrating on the eye and visual system, optometrists also study general health in courses such as human anatomy, biochemistry, and physiology.
In addition to their formal, doctoral-level training, all optometrists participate in ongoing continuing education courses to stay current on the latest standards of care and to maintain their licenses to practice. Optometry is one of the only doctoral-level health care professions to require continuing education in every state for license renewal.
As primary eye care providers, optometrists are an integral part of the healthcare team, earning their doctoral degree just as dentists, podiatrists, and other doctors do.
Prior to admittance into optometry school, optometrists typically complete four years of undergraduate study, culminating in a bachelor's degree. Required undergraduate coursework for pre-optometry students is extensive and covers a wide variety of advanced health, science and mathematics courses.
Optometry school consists of four years of post-graduate, doctoral-level study concentrating on the eye, vision and associated systemic disease. In addition to profession-specific courses, optometrists are required to take systemic health courses that focus on a patient's overall medical condition as it relates to the eyes.
Upon completion of optometry school, candidates graduate from their accredited college of optometry and hold the doctor of optometry (OD) degree.
Optometric Board Certification
Optometrists must pass a rigorous national examination administered by the National Board of Examiners in Optometry (NBEO). The three-part exam includes basic science, clinical science, and patient care.
All optometrists are required to participate in ongoing continuing education courses to stay current on the latest standards of care.
Curricula and continuing education are updated on an ongoing basis to reflect technological advances, including surgery techniques, prescriptive medications and other medical treatments related to eye diseases and disorders.
In addition to being the experts on eye and vision diseases and disorders, doctors of optometry have the education and training to diagnose the ocular manifestations of diseases that affect the entire body, such as diabetes and hypertension. Optometrists are also are qualified to evaluate their patients for surgery when appropriate and manage their patients' care pre- and post-operatively."
If you have any questions about our optometrist, or would like to make an appointment, call our friendly staff at (307) 472-2020 today!