Meet our vision-and-eye-health experts.
We're warm and welcoming, professional and engaged. We really know eyes, eyeglasses, and contact lenses. Most importantly (we think) – we're just nice people.
For the friendliest eye care in Casper, visit us at Frontier Eye Care.
Christina  |  Receptionist / Eyewear Consultant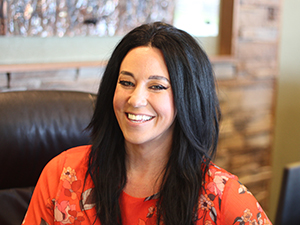 Christina is our uber-friendly, super-nice awesomely-amazing receptionist, greeter, and master of all things receptiony. If you call, it is not unlikely that it will be her cheerful and helpful voice on the line. When you call to schedule an eye exam appointment, Christina will help find a time that works best for you and your family. She's also great with kids, and has one of her own at home. Her son Channing is always keeping her on her toes.
Christina's caffeine fix of choice is a raspberry latte (because shes so sweet!) And her eyewear of choice? Colored Air Optix contact lenses — she can always change her look for fun and style. (Some days she's blue-eyed, other days brown. You never know!) 
Theresa  |  Receptionist / Optician / Optometric Technician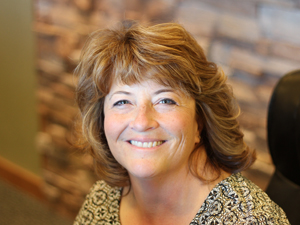 Theresa is our other super-sweet receptionist, question answerer, problem solver, and dilemma fixer. Theresa has successfully raised 3 daughters, and so, by sheer necessity, has become a master of diplomacy. She also has 5 grandkids, and knows how to spoil the little ones, too. Kids of all ages appreciate her ability to make them feel welcome and at home.
Theresa is born and raised in Casper and seems to know just about everybody. If you've not yet met her, you're in for a treat.
Theresa always loves a chai latte with coconut milk (because she likes to keep it interesting!) And she also loves her Varilux Computer Progressives with Crizal Sapphire at the office, so she can see her whole computer screen as well as our patients' smiling faces! 
MacKenzie |  Optician / Optometric Technician
MacKenzie is one of those people who's always cheerful and upbeat. She's originally from Bowman, a small town in North Dakota, and loves living in the "big city" of Casper!
MacKenzie is the active one of our group. When she's not in the office, she's most likely enjoying the outdoors, hiking, travelling, running and scuba diving. She also loves animals and has two pit bulls – "Tank Matthew" and "Tyri James", but her favorite animal is the jellyfish. (She's also fun and creative, and her artistic flair comes in handy when selecting stylish eyewear!) MacKenzie has over 8 years of experience in the health care, so she really knows her stuff. You'll find her warm smile and good nature put you at ease. 
MacKenzie's favorite drink? Iced caramel macchiato with almond milk, even in the winter because, "it's going to get cold so you might as well start out that way!"
Brandon |  Optician / Optometric Technician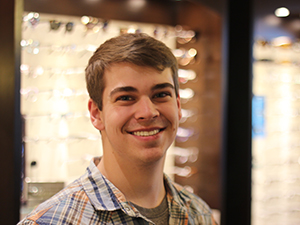 Brandon is the nerdy one of our group. In fact, he's also a student at Casper College majoring in pre-med and is working to become an optometrist himself. You'll find that his warm smile and good nature put you at ease. He's enthusiastic about your vision and eye health, but when he's not at Frontier Eye Care or in school, he enjoys hanging out with his two dogs and three cats, singing, or performing with the Casper Municipal band!
Brandon is one of the lucky ones who has perfect vision uncorrected but likes his Oakleys for those sunny days. Whenever we make a coffee run, he prefers iced caramel lattes.
Becky |  Optometric Technician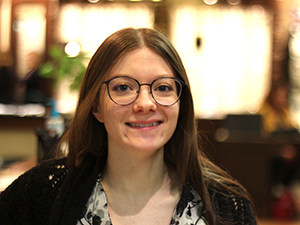 Becky is first-and-foremost one of our amazing para-optometrics. She's an expert with our diagnostic equipment and will check your visual fields, scan your retinas, and even check your eye pressures the easy, high-tech way. (No air puff!)
When she's not pre-testing your eyes, Becky likes to play Dungeons & Dragons, watch horror movies, and read horror and mystery books. (She's our resident thrill seeker!)
Becky currently wears modern Europa Cinzia frames with digital single vision lenses. She'll take a mocha frappaccino any day, but usually just goes with the barista recommendation, because she likes to be surprised
Cailin |  Optometric Technician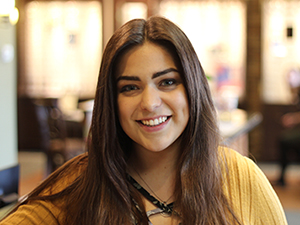 Cailin is our resident musician – She's a clarinet performance major at the Jacobs School of Music at Indiana University, has perfect pitch, and can sing opera with the best of them. But we are very fortunate to have her home in Casper every summer and during holidays to help us when we're busy (which is pretty much always anymore). In addition to her musical talents, Cailin is also an expert in diagnostic testing like digital lensometry, Optomap retinal imaging, digital keratometry, and all the fancy-schmancy high-tech eye equipment. On the rare occasions when Cailin gets a break, she mostly enjoys cooking. (Her Thai curry is to die for!)
Cailin is always up for a Chai latte with coconut milk (or a peppermint mocha with extra chocolate during the holidays.) Her eyewear of choice? Dailies Total 1 contact lenses (because they're super comfortable and convenient).
Laurel | Billing Specialist / Social Media Manager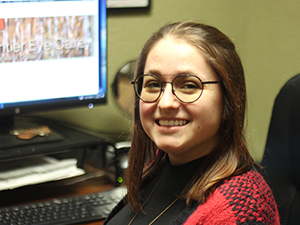 Laurel is one of those really handy people to have around because she's really good at a lot of stuff. She can adjust frames to make sure your glasses are super comfortable, she can run diagnostic pretests… she can sing, she can dance. But most of the time, she's in the back office keeping track of your vision insurance benefits.
Laurel's other talent is social media. She helps manage our Facebook, Instagram, Twitter, Google profile and all the other online stuff that kids are doing these days!
Laurel currently wears super-trendy retro double-bridge Giorgio Armani frames with green-tinted lenses. Laurel's favorite drink is an iced vanilla latte.
Dr. Doug Hodgson, OD, MS  |  Doctor of Optometry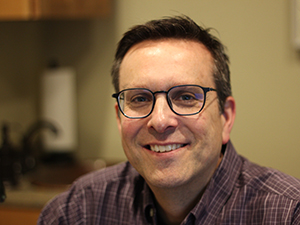 Our Optometrist, Dr. Doug Hodgson, aka "Dr. Doug," holds a Master's degree in Optical Sciences from the University of Arizona, and earned his Doctorate degree at the Indiana University School of Optometry in 2000. He graduated with honors and was named the "Outstanding Instructional Optometrist" by fellow eye doctors. He is certified and experienced in the treatment and management of eye disease and injury. Dr. Hodgson has been an eye doctor for over 12 years and loves helping people see their best and maintain their good vision for years to come. His eye examinations are comprehensive and thorough, and he'll explain the results of your eye exam to make sure you understand all aspects of your eyes and vision.
Dr. Hodgson has been an optometrist in Casper since 2001 and lives on Casper Mountain with his wife, Danielle, and two daughters, Cailin and Laurel. Since moving to Casper Mountain, he has become an expert in snow removal and firewood stacking.
Dr. Hodgson wears MODO frames with Essilor computer progressive lenses in the office, and SALT frames with S-Series progressive lenses for driving and everthing else. Both have Crizal Sapphire.
Wilson  |  Couch Holder-Downer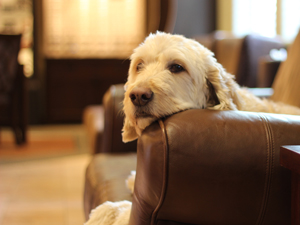 Wilson, aka "Wilsonious," aka "Bubbins," aka "Mr. McTurdface," is pretty much good for nothin'. We've been trying to figure out how to let him go for the past few years, but haven't had the heart to fire him. He's just too cute.
Wilson is actually Dr. Hodgson's 11-year-old golden doodle. Most days, Wilson hangs out in the back office keeping the management in line. But he has been known to wander into our welcome area to stretch, take a nap, or look for trouble. If you love canines, or just need some warm snuggles, let us know, and we'll let you visit with Wilson. He's a glutton for attention and will thank you with a wag of his tail.
If you would like to know more about our all-digital eye exams or eyewear gallery or need to make an appointment for an eye examination, give our friendly staff a call today at 307-472-2020.  We look forward to seeing you soon!