Meet our team of vision-and-eye-health experts.
We're warm and welcoming, professional and engaged. We really know eyes, eyeglasses, and contact lenses. Most importantly (we think) – we're just nice people.
For the friendliest eye care in Casper, visit us at Frontier Eye Care.
Christina | Receptionist / Eyewear Consultant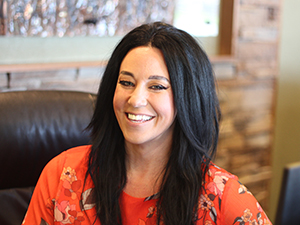 Christina is our uber-friendly, super-nice awesomely-amazing receptionist, greeter, and master of all things receptiony. If you call, it is not unlikely that it will be her cheerful and helpful voice on the line. When you call to schedule an eye exam appointment, Christina will help find a time that works best for you and your family. She's also great with kids, and has one of her own at home. Her son Channing is always keeping her on her toes.
Christina's eyewear of choice? The new colored Air Optix contact lenses. She's always changing her look for fun and style. (Some days she's blue-eyed, other days brown. You never know!)
Theresa | Receptionist / Eyewear Consultant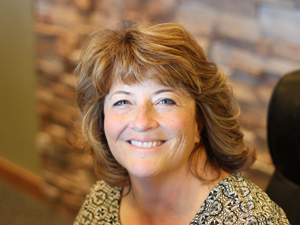 Theresa is our other super-sweet receptionist, question answerer, problem solver, and dilemma fixer. Theresa has successfully raised 3 daughters, and so, by sheer necessity, has become a master of diplomacy. She also has 5 grandkids, and knows how to spoil the little ones, too. Kids of all ages appreciate her ability to make them feel welcome and at home.
Theresa is born and raised in Casper and seems to know just about everybody. If you've not yet met her, you're in for a treat.
Theresa recently started wearing Varilux Computer Progressives with Crizal Sapphire at the office, and absolutely loves them.
Hannah | Optician/ Patient Care Specialist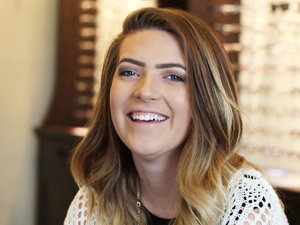 If you need glasses that are perfect for you and your lifestyle, just talk to Hannah. Officially, she's an optician, but we like to think of her as "The Supreme Empress of All Things Optical". Yep, she's that good.
With over 5 years of experience in the service and healthcare fields, Hannah has earned accolades for her knowledge and helpful good nature. She has a knack for making sure you're in the right lenses and frame to make sure you see and look your best. Hannah moved to Wyoming from Washington when she was just a kid. (Fortunately for us she hasn't blown away yet.) She's enthusiastic about your vision and eye health, but when she's not at Frontier Eye Care, she enjoys hanging out with her two dogs and sleeping in.
Most days, Hannah's eyewear of choice includes Dailies Total 1 Contact Lenses.
Veronica | Optometric Technician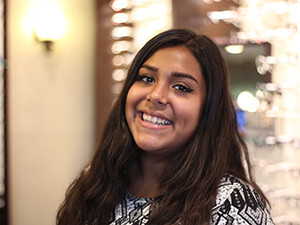 Veronica is one of our para-optometric technicians. That means she knows all about our state-of-the-art equipment and diagnostic tests that help our doctor ensure your eyeglass prescription is the most accurate.
When she's not checking your visual fields or scanning your retinas, Veronica attends Casper College studying psychology and volunteers at the Casper Children's Theatre. (She's done some musical theatre herself and loves to perform. If you're lucky, you may even hear her humming a Broadway show tune!)
Veronica just happens to have perfect vision, so she doesn't get to wear any glasses or contacts. However, she loves trying on frames and has a selection of favorites.
Laurel | Optometric Technician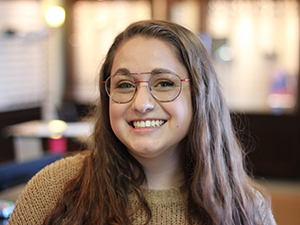 Laurel is first-and-foremost one of our amazing para-optometrics. She's an expert with our diagnostic equipment and will check your visual fields, scan your retinas, and even check your eye pressures the easy, high-tech way. (No air puff!)
But Laurel's other talent is social media. She manages our Facebook, Instagram, Twitter, Google profile and all the other online stuff that kids are doing these days! When she's not doing all that amazing stuff for us, Laurel keeps busy as a senior at Kelly Walsh High School participating in choir and as a percussionist in band.
Laurel currently wears super-trendy retro double-bridge Lafont frames from the "Issy and La" collection with the new mirrored transition lenses.
Dr. Doug Hodgson, OD, MS | Doctor of Optometry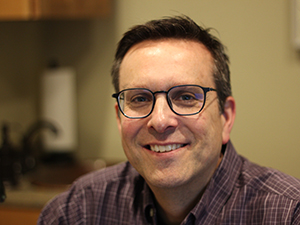 Our Optometrist, Dr. Doug Hodgson, aka "Dr. Doug," holds a Master's degree in Optical Sciences from the University of Arizona, and earned his Doctorate degree at the Indiana University School of Optometry in 2000. He graduated with honors and was named the "Outstanding Instructional Optometrist" by fellow eye doctors. He is certified and experienced in the treatment and management of eye disease and injury. Dr. Hodgson has been an eye doctor for over 12 years and loves helping people see their best and maintain their good vision for years to come. His eye examinations are comprehensive and thorough, and he'll explain the results of your eye exam to make sure you understand all aspects of your eyes and vision.
Dr. Hodgson has been an optometrist in Casper since 2001 and lives on Casper Mountain with his wife, Danielle, and two daughters, Cailin and Laurel. Since moving to Casper Mountain, he has become an expert in snow removal and firewood stacking. Lately, he's been enjoying texting his family with Bitmojis.
Dr. Hodgson wears MODO frames with Essilor computer progressive lenses in the office, and SALT frames with S-Series progressive lenses for driving and everthing else. Both have Crizal Sapphire.
Wilson | Couch Holder-Downer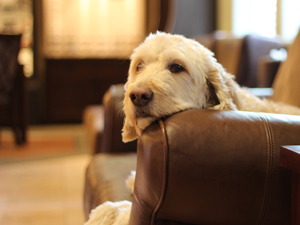 Wilson, aka "Wilsonious," aka "Bubbins," aka "Mr. McTurdface," is pretty much good for nothin'. We've been trying to figure out how to let him go for the past few years, but haven't had the heart to fire him. He's just too cute.
Wilson is actually Dr. Hodgson's 10-year-old golden doodle. Most days, Wilson hangs out in the back office keeping the management in line. But he has been known to wander into our welcome area to stretch, take a nap, or look for trouble. If you just love canines, need some warm snuggles, or are a weirdo who likes stinky belches, let us know, and we'll let you visit with Wilson. He's a glutton for attention and will thank you with a wag of his tail.
If you would like to know more about our all-digital eye exams or eyewear gallery or need to make an appointment for an eye examination, give our friendly staff a call today at 307-472-2020. We look forward to seeing you soon!