Meet our team of vision and eye health experts.
We're warm and welcoming, professional and engaged. We really know eyes, eyeglasses, and contact lenses. Most importantly (we think) – we're just nice people.
For the friendliest eye care in Casper, visit us at Frontier Eye Care.
Brenda |  Optician/ Patient Care Specialist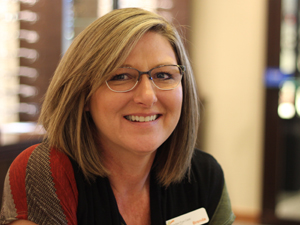 Brenda, our Patient Care Specialist, is a natural when it comes to customer service. You'll love her super-friendly personality and desire to meet your needs. When Brenda helps you select your eyewear, you can be sure that you're getting the best frames for your personal style. In addition to her amazing sense of fashion, she's also an expert in high-tech lens materials and options. So you'll be seeing your absolute best, too!
Brenda also helps in our eye clinic by utilizing the latest diagnostic equipment to obtain data about your eyes that will help ensure the best vision possible, and the best eye health available.
Originally from Seattle, Washington, Brenda has previous experience in the dental health and customer service fields, and has lived in Casper since 2000. When she's not helping patients at Frontier Eye Care, she enjoys spending time with her Husband Scott and their three kids.
Brenda wears Scott Harris frames with Varilux S-Series lenses.
Hannah |  Optician/ Patient Care Specialist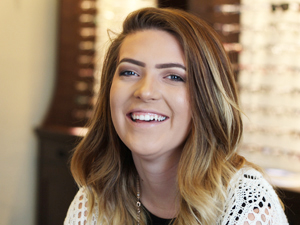 If you need glasses that are perfect for you and your lifestyle, just talk to Hannah. Officially, she's an optician, but we like to think of her as "The Supreme Empress of All Things Optical". Yep, she's that good.
With over 5 years of experience in the service and health care fields, Hannah has earned accolades for her knowledge and helpful good nature. She has a knack for making sure you're in the right lenses and frame to make sure you see and look your best. Hannah moved to Wyoming from Washington when she was just a kid. (Fortunately for us she hasn't blown away yet.) She's enthusiastic about your vision and eye health, but when she's not at Frontier Eye Care, she enjoys hanging out with her two dogs and sleeping in.
Most days, Hannah's eyewear of choice includes Dailies Total 1 Contact Lenses.
Mackie |  Optician/ Patient Care Specialist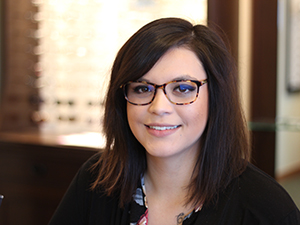 Michaela (aka Mackie) is our frame-and-lens expert, fashionista, and just plain nice gal.
Mackie loves and appreciates Casper and is super happy to call it home. She recently moved here with her husband and two boys from Havre, Montana. (Havre had over 83 inches of snow last winter, and February temperatures averaged 4 below zero. In fact, the Weather Channel ranked Havre's winter as the worst in the country. So, yeah, Casper is pretty nice.)
Casper is also pretty happy to have Mackie. Her years of optometric experience make her the perfect eyewear consultant, and adjustments and repairs are just her thing. Plus, she's super nice and friendly.
Jaz |  Optician/ Patient Care Specialist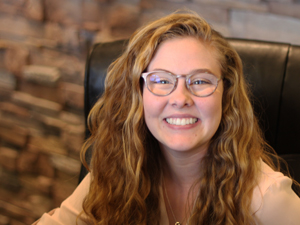 Jazmin, who usually goes by "Jaz" because it's cool (and has fewer syllables), is one of those people who's always cheerful and upbeat. Well, actually, there was that one time she had to buy a new alternator – She was not too happy about that. But anyhoo…
Jaz is the creative one of our group. In fact, she's also studying graphic design, and her artistic flair comes in handy when selecting stylish eyewear. Jaz also loves working with children, and in her spare time she helps teach acting classes at the Casper Children's Theatre. (She's just awesome.) You'll find her warm smile and good nature put you at ease.
Jaz wears LaFont frames with Varilux S-Series Progressive lenses.
Christina  |  Receptionist / Eyewear Consultant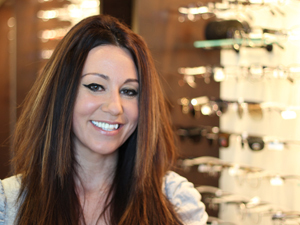 Christina is our uber-friendly, super-nice awesomely-amazing receptionist, greeter, and master of all things receptiony. If you call, it is not unlikely that it will be her cheerful and helpful voice on the line. When you call to schedule an eye exam appointment, Christina will help find a time that works best for you and your family. She's also great with kids, and has one of her own at home. Her son Channing is always keeping her on her toes.
Christina's eyewear of choice? The new colored Air Optix contact lenses. She's always changing her look for fun and style. (Some days she's blue-eyed, other days brown. You never know!)
Theresa  |  Receptionist / Eyewear Consultant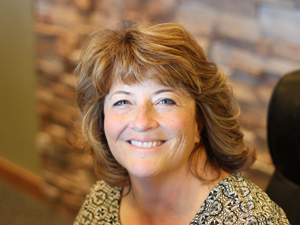 Theresa is our other super-sweet receptionist, question answerer, problem solver, and dilemma fixer. Theresa has successfully raised 3 daughters, and so, by sheer necessity, has become a master of diplomacy. She also has 5 grandkids, and knows how to spoil the little ones, too. Kids of all ages appreciate her ability to make them feel welcome and at home.
Theresa is born and raised in Casper and seems to know just about everybody. If you've not yet met her, you're in for a treat.
Theresa just started wearing the Varilux Computer Progressives at the office, and loves them.
Dr. Doug Hodgson, OD, MS  |  Doctor of Optometry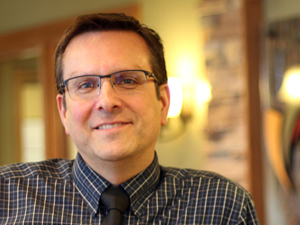 Our Optometrist, Dr. Doug Hodgson, aka "Dr. Doug," holds a Master's degree in Optical Sciences from the University of Arizona, and earned his Doctorate degree at the Indiana University School of Optometry in 2000. He graduated with honors and was named the "Outstanding Instructional Optometrist" by fellow eye doctors. He is certified and experienced in the treatment and management of eye disease and injury. Dr. Hodgson has been an eye doctor for over 12 years, and loves helping people see their best and maintain their good vision for years to come. His eye examinations are comprehensive and thorough, and he'll explain the results of your eye exam to make sure you understand all aspects of your eyes and vision.
Dr. Hodgson has been an optometrist in Casper since 2001, and lives on Casper Mountain with his wife, Danielle, and two daughters, Cailin and Laurel. Since moving to Casper Mountain, he has become an expert in snow removal and firewood stacking. Lately, he's been enjoying texting his family with Bitmojis.
Wilson  |  Couch Holder-Downer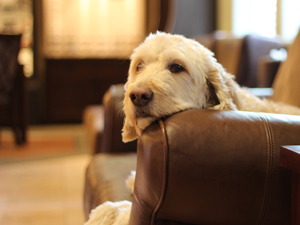 Wilson, aka "Wilsonious," aka "Bubbins," aka "Mr. McTurdface," is pretty much good for nothin'. We've been trying to figure out how to let him go for the past few years, but haven't had the heart to fire him. He's just too cute.
Wilson is actually Dr. Hodgson's 10-year-old golden doodle. Most days, Wilson hangs out in the back office keeping the management in line. But he has been known to wander into our welcome area to stretch, take a nap, or look for trouble. If you just love canines, need some warm snuggles, or are a wierdo who likes stinky belches, let us know, and we'll let you visit with Wilson. He's a gluton for attention, and will thank you with a lick or two.
If you would like to know more about our all-digital eye exams or eyewear gallery, or need to make an appointment for an eye examination, give our friendly staff a call today at 307-472-2020.  We look forward to seeing you soon!