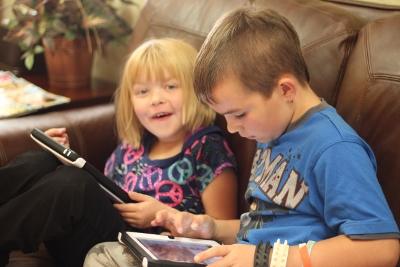 At Frontier Eye Care, we love kids! And we want to ensure that Wyoming's kids are seeing their best in school and at home. So families are certainly welcome. To make things convenient for parents, we can schedule your whole family together. This cuts down on travel time, so you can avoid multiple trips. But this also means kids will have to wait while their brothers, sisters, mom, or dad is with our eye doctor or selecting eyewear. And waiting kids get restless.
So at Frontier Eye Care, we've created an environment where kids don't mind hanging out. How did we do this?  Here's our 4 secret keys to achieving blissful kiddos: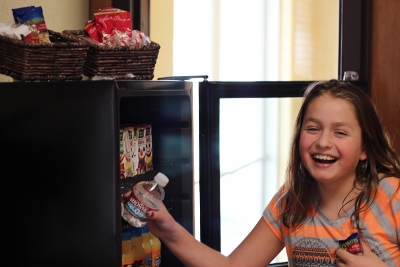 1)      Drinks – While waiting doesn't necessarily create thirst, a kid who is bored AND thirsty is just plain unhappy. And unhappy kids whine. Then nobody's happy. So number one on our list is drinks. We've set up a mini refrigerator with bottled water, soft drinks, juice boxes, and Sunny-D. (Sorry mom and dad, no wine or beer!)
2)      Snacks – Boredom, thirst, AND hunger? A perfect recipe for kid meltdown. So sitting atop our refrigerator are baskets chock full of roasted peanut packets, individually-wrapped cookies, dried fruits, and assorted candies. Not to mention our famous individually-wrapped Jelly Belly jelly beans. (Toasted marshmallow, anyone?)
3)      Comfortable Seating – What better way to relax than comfy living-room-style furnishings? Our cushy chairs just beg kids to relax. And our big leather loveseat is a favorite. It's the perfect size for kids to sprawl out with a sibling or friend. And it's leather, so nobody has to stress about spills!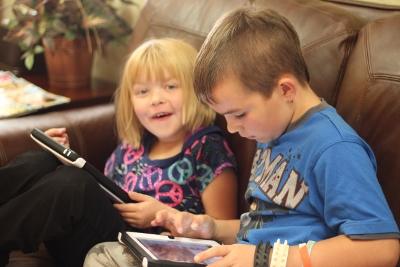 4)      iPads! – Last (but certainly not least) is entertainment. We've invested in Apple iPads with OtterBox rugged protective covers.  We've downloaded great kid-friendly games and activites such as Fruit Ninja, Cut the Rope, and of course Angry Birds. Coloring games and hidden picture apps are great for the little ones.  And parents and teens love the iPads, too. (What better way to pass the time than checking email or Facebook over our free wi-fi?)
Our kid-friendly welcome area has received nothing short of rave reviews from kids and parents alike. In fact, we've had only one problem – kids don't ever want to leave!
If you have any other ideas of how we can make Frontier Eye Care even more fun for families, please comment below! Thanks!
https://frontier-eyecare.com/wp-content/uploads/2012/09/Kids-waiting-for-eye-exam.jpg
267
400
Ashley Alden, OD
https://frontier-eyecare.com/wp-content/uploads/2017/01/frontier-logo-for-website.png
Ashley Alden, OD
2012-09-16 20:29:32
2021-01-25 11:29:44
How we keep kids happy while waiting