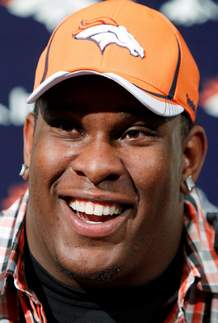 When patients at Frontier Eye Care ask about Lasik or other refractive surgery options, we refer them to Insight Lasik in Denver, Colorado. Insight's surgeon, Dr. Stark Johnson is a board-certified corneal specialist, and arguably the most experienced refractive surgeon in the region. He also just happens to be the the official team ophthalmologist of the Denver Broncos.
Most patients who request refractive surgery to correct their vision usually undergo Lasik or PRK to reshape their cornea and improve vision. But if their vision is so bad that Lasik is not possible, there are other options. Denver Bronco's offensive tackle Orlando Franklin was one of those patients. "If my mom was standing five feet away from me I probably wouldn't be able to tell that's my mom," he said.
So Frankin opted to have the Visian ICL implanted into his eyes. What is ICL? While it is sometimes called the Implantable Contact Lens, the Visian ICL officially stands for Implantable Collamer Lens. Collamer is a technologically advanced lens material which has a collagen base, so it's 100% compatible with your body's natural chemistry.
The Visian ICL procedure is a short 15 minute outpatient procedure. Prior to the implantation of the ICL, the patient receives topical anesthetic drops to minimize discomfort. The doctor then creates a micro opening to insert the lens. The lens is folded and loaded into a small cartridge and as the lens is injected, it gently unfolds in the eye. Patients then experience an immediate improvement in vision quality and are "Wowed" by the results.
In less than half an hour, Franklin was seeing clearly, "I came in seeing blurry and now I can see people's faces. I can play every game, every snap now." Franklin had the surgery on a Tuesday and went back to practice on Wednesday, although he has to lay off the weights and stay out of the hot tub for a little while.
If you would like more information about Lasik, PRK, ICLs, or whether refractive surgery is right for you, be sure to ask Dr. Hodgson. Give us a call today to schedule a refractive surgery consultation!
https://frontier-eyecare.com/wp-content/uploads/2013/04/Orlando-Franklin.jpg
323
218
Doug Hodgson
https://frontier-eyecare.com/wp-content/uploads/2017/01/frontier-logo-for-website.png
Doug Hodgson
2013-04-27 15:10:42
2013-08-19 08:23:59
Denver Bronco gets new vision