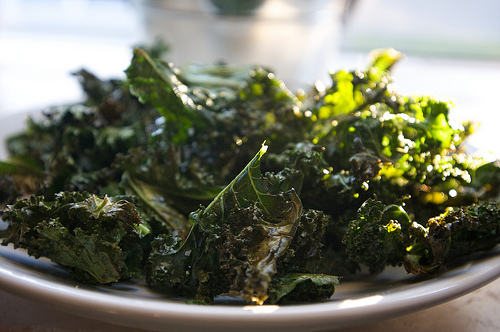 If you have macular degeneration or have a family-history of macular degeneration (or just want to be healthy) you should consume lutein and zeoxanthin. These anti-oxidants have been shown to reduce your chances of developing advanced wet macular degeneration. I always recommend supplements like Preservision to my patients with macular degeneration, but also encourage them to find natural sources of these nutrients. Studies have proven that the benefits are greater when you eat foods that contain the anti-oxidants compared to the pill form. And some of the best sources are green, leafy vegetables like spinach and kale.
So, okay. I'm good with the spinach. To be honest, I hated it when I was a kid, but that was the awful, cooked and oiled stuff in a can. (I think Popeye was on the something when he downed the whole can without tasting it.) Nowadays, I love spinach on pizza. And a fresh baby-spinach salad with pecans, dried cranberries, feta crumbles, and poppy seed dressing? Pretty tasty.
But kale? I'm not sure I even knew what kale was until I checked the kale Wikipedia article. Apparently, kale is a form of cabbage where the leaves don't form a head, similar to a wild cabbage. Until the Middle Ages, kale was the most common vegetable in Europe. I learned that it is very popular in the orient where it is used in stir-fry, and in the southern US where it is boiled with other greens such as collards and turnip greens.
Lately, kale has seen a rise in popularity in upscale urban restaurants. And the latest craze is "kale chips". When one of my patients posted a recipe for kale chips on Facebook, my wife and I had to try it out. The recipe is super simple. It's basically just the kale leaves ripped into bite-sized pieces, tossed with olive oil and salt, then popped into the oven. (Even I could make them without help, although the kids insisted on getting involved.) And guess what? They're not half bad! In fact, they're pretty fun to eat. Granted, I have eaten a similar Japanese snack made with seaweed, and had a good idea what we were getting into. I imagine these are not for everybody, but the kids liked them, and that says something.
Give kale chips a try and let us know what you think!
Kale Chips (Recipe with photos at Shutterbean.com originally from thekitchn.com)
1 bunch of Kale
a few glugs of olive oil
salt
Preheat oven to 350. Tear kale into bite-sized pieces, avoiding the tough inner stalk. Rinse well in water and dry as best you can either in a spinner or on a tea towel. Pour a few glugs of olive oil on a baking sheet and add the kale. Sprinkle with salt and toss gently to evenly distribute the oil and salt, being careful not to toss the kale out of the tray. Place in oven and bake about 10-15 minutes, or until the kale is crisp. Best if eaten warm but not necessary.
https://frontier-eyecare.com/wp-content/uploads/2012/06/Kale-chips.jpg
332
500
Ashley Alden, OD
https://frontier-eyecare.com/wp-content/uploads/2017/01/frontier-logo-for-website.png
Ashley Alden, OD
2012-06-10 23:39:43
2021-01-25 11:29:44
Baked Kale Chips